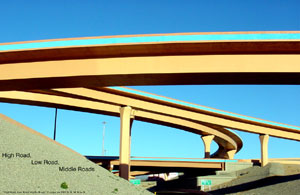 "High Road, Low Road, Middle Roads"
Inkjet print - Apprx. 8 X 10
Rick says:
How come there are so many situations where it's hard to tell what the high road is.
In Albuquerque, they call this "The Big I" because it is the intersection of I-40 and I-25. This intersection was rebuilt in record time. The entire merge way was rebuilt in 2 1/2 years without shutting down the highways - not all the way shut down ... anyway - and it catches the light as well as any natural object.
For other custom sizes and options email sales@rickshaus.com or call 505 280-5278